G-20 Summit:-
The core committee constituted for the preparations for the G-20 Summit inspected it on Friday along with the Vice President of LDA-Lucknow Development Authority, Dr. Indramani Tripathi. During this, many points regarding beautification were discussed.
The chairperson of the core committee, AKTU's Faculty of Architecture and Planning Department's Dean Dr. Vandana Sehgal, Professor Jagbir Singh of Amity University, Architect Ashish Mittal and Rajneesh Agarwal will submit their report in two days. LDA-Lucknow Development Authority Vice President instructed to fix the lights while arranging all the 100 Lavidya intersections on the route leading from Shaheed Path to The Centrum Hotel. Instructions were given to paint the dividers afresh, install attractive flower pots, repair the damaged road, and paint the railing of the green belt. Also ordered to clean the under-construction buildings by covering them with green net, branding of G-20 conference with flex, banner and painting on the water tank and constructed buildings.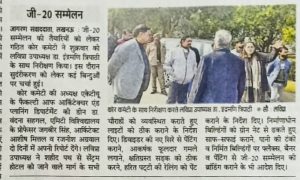 LDA-Lucknow Development Authority Vice President Dr. Indramani Tripathi inspecting the core committee.